Laser scanning
Short-ranged
To carry out its high-precision 3D scans, Archéotech SA is equipped with several types of scanners with laser scanning or white light projection. These technologies help capture in seconds millions of 3D points from the precisely scanned surfaces able to reach 1/10th millimetre. This equipment is directly implemented on-site or in the museums, and quickly operational.
Objects up to 100 kilograms are captured using a turntable surrounded by scanners. The different scenes thus measured are automatically assembled to form a complete 3D digitalized replica of the object.
For tall objects that cannot be captured using the turntable, the scanner is moved in front of or around the object. The scenes are then automatically assembled by an algorithm recognizing the morphology of the superimposed zones.
Long-ranged
Laser scanners measure surfaces in a few minutes at a rate of over de 900 000 points a second, up to a range of 300 metres and with a precision inferior to the centimetre (less than 6mm at 200m) allowing high precision 3D surveys.
This equipment is directly operational on-site or inside natural structures or buildings. It allows for sharp and extremely fast acquisition of surfaces morphologies.
These technologies are particularly useful to capture complex topographies or galleries or cavities (volume measurement before and after mining), heavily decorated monuments, inaccessible structures such as bridges, dams, frameworks, industrial installations, works of art and civil engineering.
Advantages
• High performance 3D laser scanners
• High precision 3D surveys
• In one capture only, a phenomenal source of information
• Facilitated interface to such software as Autocad, Microstation, Esri, 3dsMax, Alias WaveFront
• Directly exploitable data depending on each specialist's applications
Fields of intervention
Art restoration, museography, architecture, historical reconstruction, urbanism, civil engineering, industry, naval construction, dynamic monitoring of works, scientific analysis.
Laser scanning for objects
Illustration of laser scanning on the portal of the Sainte-Marie-Madeleine Basilica of Vézelay (F)
Scanners adapt very easily to the site and are set very rapidly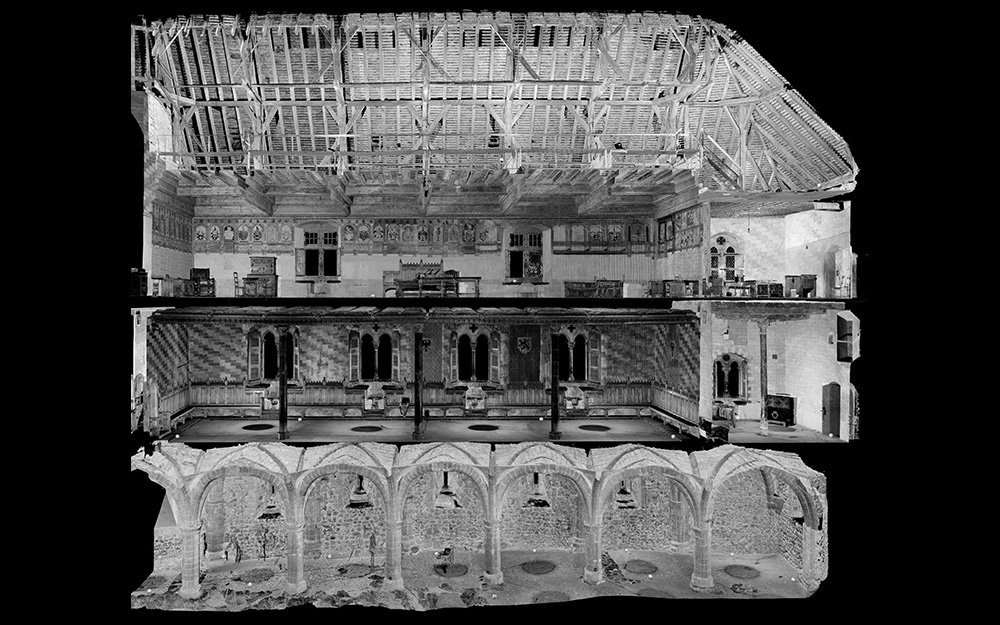 View in perspective of scatter points using laser scanning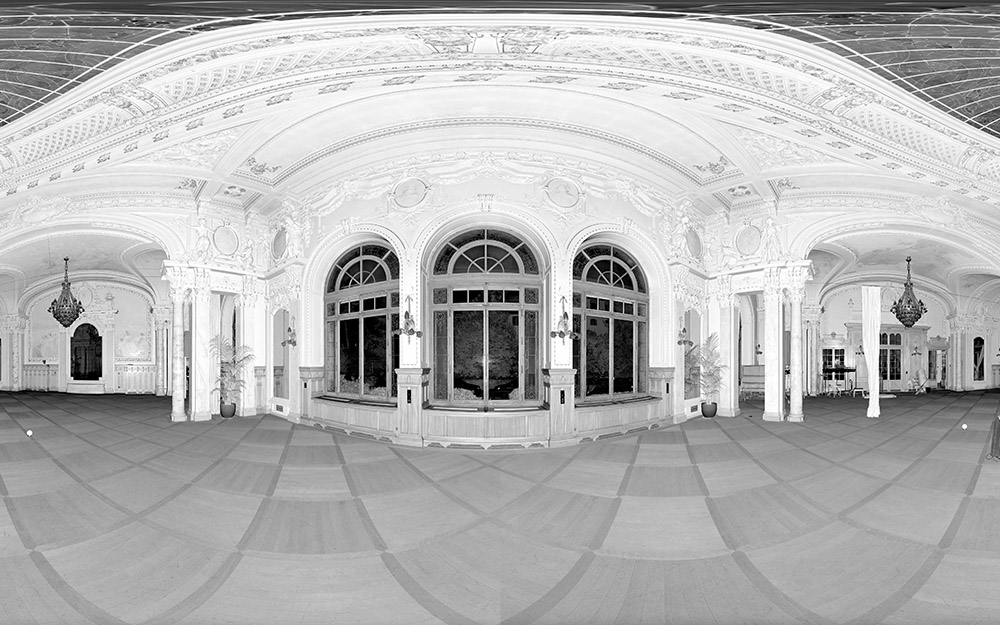 Panoramic previsualisation of the scan