Geodesy

Archéotech SA is equipped with first-class total stations Leica and Trimble, which allows us to guarantee perfect and precise adjustment of all the measured sites or buildings. If the site includes important vegetation, the use of robotized stations Leica TS15 radio-linked to a field computer helps create a very precise topographical survey.
Measurements using GPS (Global positioning system)
To guarantee a precise adjustment on a territorial scale of the different technologies described above, Archéotech SA has a centimetric satellite geodetic positioning system Trimble G4. The calculation of differential corrections is guaranteed by the Swipos-GISGEO service of the Federal Topographic Office.
This system allows for a fast centimetric geodetic positioning that guarantees maximum coverage, especially on northern sides. It is particularly adapted to measuring topographies, technical infrastructures, supply and distribution networks, projects implementation.
Advantages
• High-performance total stations
• Extremely precise measurements
• Fast, field-adaptable and maximum coverage
Fields of intervention
Architecture, urbanism, civil engineering, industry, naval construction, dynamic monitoring of works, scientific analysis.

The total station Leica easily adapts to all sorts of ground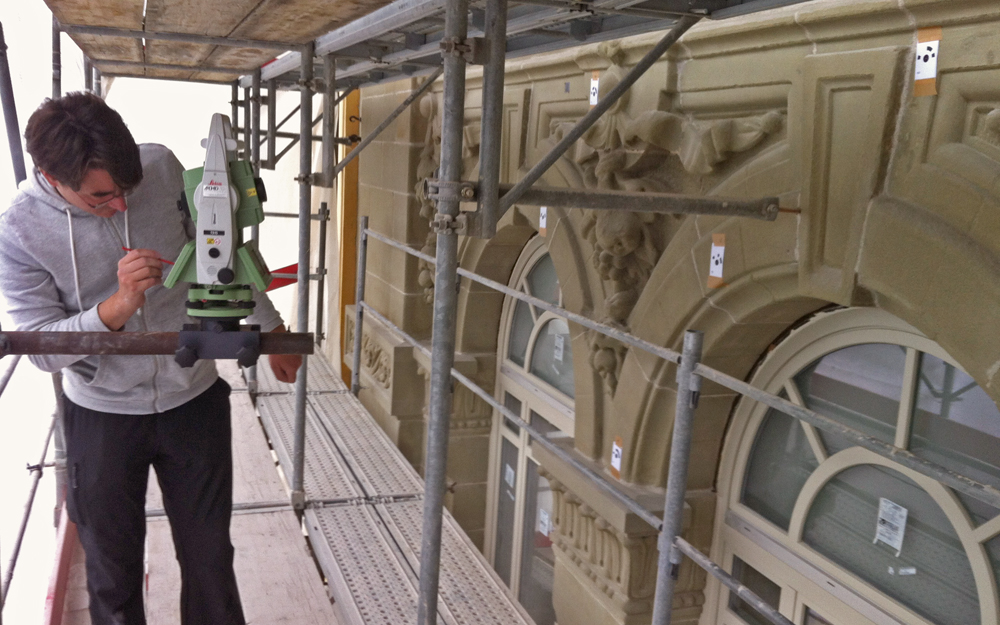 Technical survey of a facade on scaffoldings