Digitalisation of reality: enter a new space-time

The Captiva360 service from Archéotech SA implements pioneering technologies to capture spaces and visualize them on any online platform. A new era begins in terms of documenting, studying and sharing information linked to private or public heritage. From now on, virtual tours are hosted on our secure servers.
Simple and fast tools implementation
Our sensors accurately capture the interior and exterior spaces of your sites as high definition colour photographs. Our operators control and move the sensors through the space as they are captured in the field. At each position, the sensor records the space 360 degrees in the horizontal plane. The capture is controlled with a digital tablet connected to the sensor. The data is recorded in real time and stored in a secure data centre.

Global input, 360° virtual tour, time-saving
Within 48 hours, you will receive the virtual tour as a web link or locally. The application's interface allows you to move around the application in the same way as in Google Street View. Each position (station) can then be viewed in 360°. The time spent digitising a site is very short, only a few hours, and at low cost. The documentation of the volumes and all the elements of your site is very detailed and true to reality.

Avant-garde for studies and information sharing
The tour documents all visible elements with the possibility of adding labels or hotspots that allow the integration of all kinds of media. This facilitates the sharing of information between different stakeholders. The virtual tour is fully customisable and the addition of media within it allows for captivating interactivity.
Multiple fields of application
Museums, monuments, exhibitions: for the general public and the professionals, chance to visit without moving; patrimonial study and memory; cultural mediation tool; interactive contents; archiving of temporary exhibits.
Proto-industrial and industrial heritage: scientific and ethnographic studies; complete documentation; patrimonial memory; information sharing and teamworking platform.
Public, private and business property: for architects, contracting authorities and all contributors involved in maintenance and restoration works; complete documentation «Raumbuch», information sharing and teamworking platform.
Curious about what Captiva360 can do for you? Ask us for a non-binding estimate: CAPTIVA360@archeotech.ch
Together, let's explore new angles.
The virtual visit makes it possible to document a site perfectly and offers a common working platform
Exposition Henry Brandt (MAHN) - Archiving and valorisation of the exhibition
Interactivity as the key word: creation of a quiz for children in the virtual visit of the Artemis exhibition at the MCAH
A duty of remembrance: archiving heritage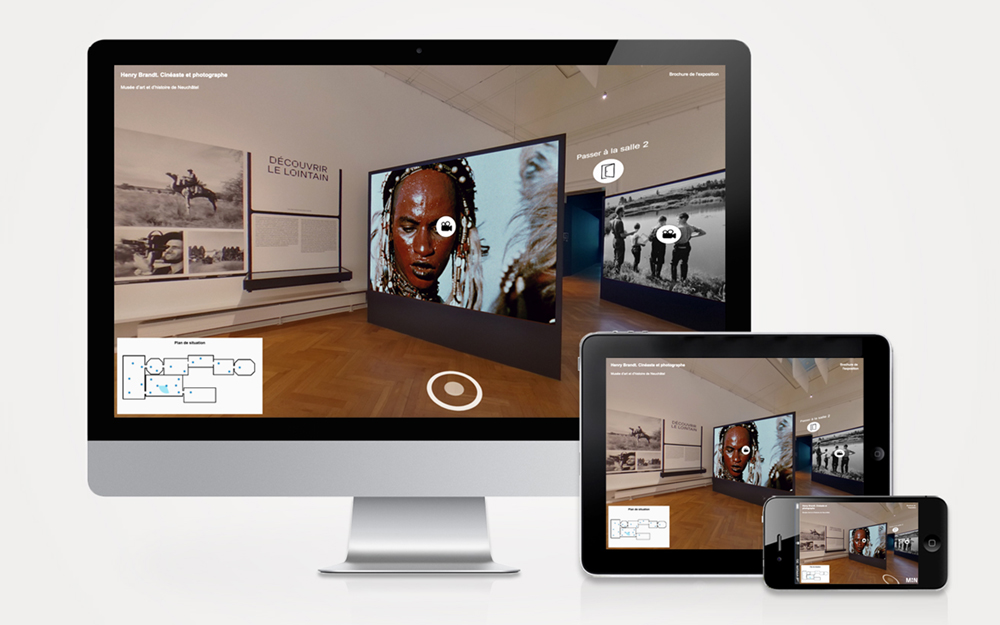 Access the virtual tours at any time from your computer, digital tablet or smartphone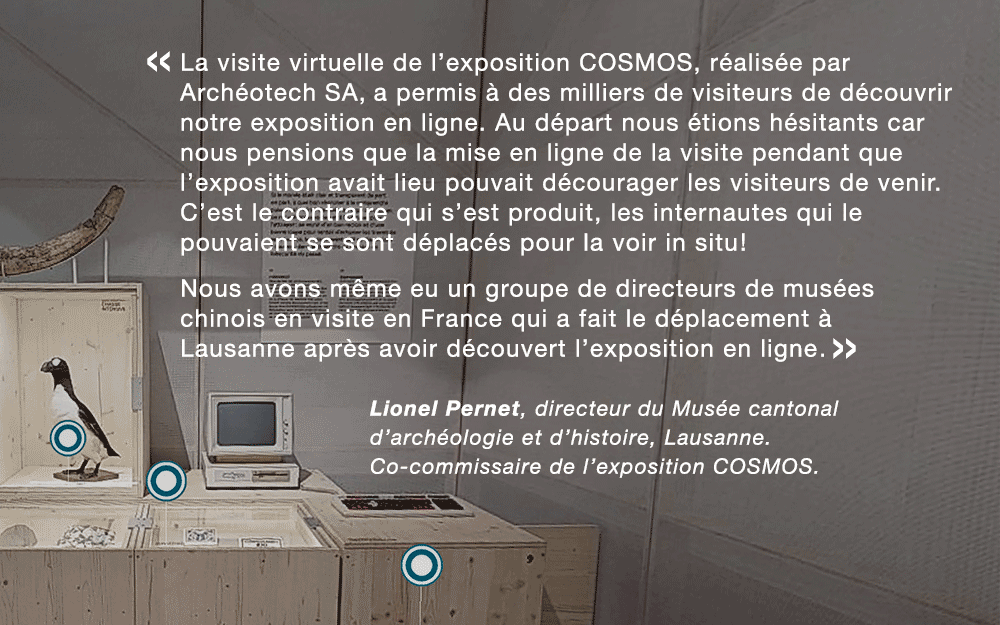 A decisive advantage to showcase your space